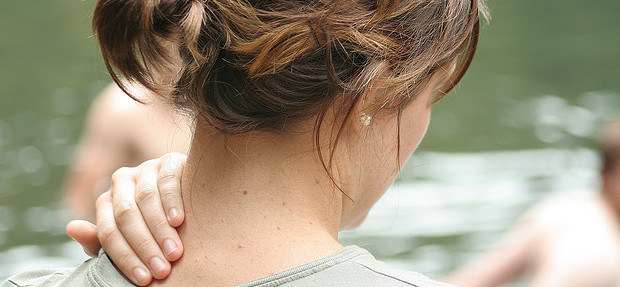 Q: I have had neck pain for a few weeks now and painkillers have not seemed to help. Will physiotherapy help?
A: Neck pain is extremely common and can affect your life in different ways depending on the individual. The Physiotherapy Partners have great knowledge and expertise in the area and clinically diagnose neck pain along with a number of injuries.
Neck pain can come about in many different forms and can be sharp, dull muscular aches, or the inability to fully move your head. As with any pain, neck pain can be frustrating and it is important to seek professional help and guidance to accurately diagnose the cause of your neck pain and help you recover fully.
Your neck joints and muscles are usually the cause of neck pain. One particular case is having a twisted or locked neck. This type of injury is usually noticed when a patient wakes up and finds their neck twisted and is due to injury of the neck muscles. This type of neck injury is known as acute torticollis and the exact cause is unknown. The Physiotherapy Partners believe it could be caused from sleeping without adequate neck support, general bad posture or carrying unbalanced heavy loads just as a bag.
Another case of neck pain is caused by wear and tear of your bones and joints in your neck and is a type of arthritis called cervical spondylosis. This type of neck pain can occur naturally with age and you normally feel a certain stiffness. It is very important to contact if you feel you are suffering from neck stiffness as it can result in pain falling down to your arms and causing numbness because nerves near your neck have been squashed.
A very common cause of neck pain is whiplash. Whiplash can occur because of a sudden movement of your head either forward, backwards or sideways. Whiplash is a very common outcome of a road accident and can lead to your head being overstretched and tendons and ligaments being injured. Tenderness of the neck muscles and headaches can also be caused by whiplash.
Every type of neck pain is different in terms of its cause and the severity you may have. By seeking advice and treatment from The Physiotherapy Partners, you will be given a dedicated physiotherapist to help you work through your neck pain and provide you with a tailored treatment plan. If treatment is not taken it is likely you neck pain could result in chronic neck pain. It is essential to seek advice and treatment even if you feel you have recovered as your neck is likely to adjust itself even if it hasn't recovered.
The treatment that you will be advised could be strengthening exercises to eliminate your neck pain effectively, stiffness and headaches. Other treatments could involve a combination of muscle stretching, acupuncture, massage, and techniques to improve your posture. The treatment you personally receive from The Physiotherapist Partners and the length of your recovery really does depend on the cause of your neck pain and severity of your injury.
Make sure you don't do too much and consult us if needed. Here at The Physiotherapy Partners we provide advice and training plans to patients across the West Midlands and Worcestershire and more than happy to help from any of our three clinics.
If you've got a question you'd like to ask the team, email us at ask@thephysiotherapypartners.co.uk. 
Photo credit: Aidan Jones via Flickr cc