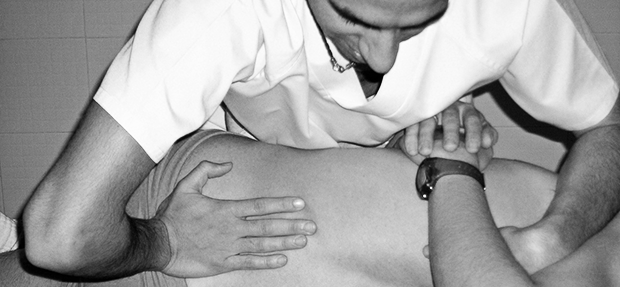 The world of physical treatment can be a confusing one at times, with the roles of physiotherapists, chiropractors and osteopaths sometimes overlapping. Sometimes patients are referred to a specific service by a medical professional, but what if you wish to self-refer? This edition of Ask The Physiotherapy Partners is designed to offer a bit of clarity to those who wish to decide which treatment option is best for them.
Physiotherapy aims to restore movement and functionality to areas of the body that has been hindered or damaged by disability, and is often used to rehabilitate patients. Physiotherapists have a fairly broad training, incorporating movement, exercise, manual therapy, education, advice and healthy living into their service offering. In addition, physiotherapists can treat problems with much of the body, including the cardiovascular, respiratory, neuromuscular and musculoskeletal systems.
Chiropractors tend to focus on the neuromusculoskeletal system, and disorders which affect it. They specialise in preventing, diagnosing and treating such ailments, as well as examining the wider effect on the nervous system. Generally, problems with the spine will be treated by a chiropractor. Chiropractors use manipulation techniques to treat the musculoskeletal system in order to correct issues, and are also able to provide rehabilitation services.
Osteopathy also focuses primarily on the musculoskeletal system, and how it affects a patient's general health. Osteopaths operate on the principle that the body can look after itself, and therefore seek to strengthen the musculoskeletal system in order to treat the patient. They have a holistic approach, providing treatments in the context of an individual's medical history and lifestyle. Treatments such as joint manipulation, massage, stretching and acupuncture are designed to increase mobility, relieve tension, promote blood supply and encourage the body to heal itself.
Regardless of the treatment route you choose to pursue, there are some key pieces of advice to follow when finding a specific practitioner:
Do your research: has the physiotherapist/chiropractor/osteopath been practicing long? Are they fully qualified? Are they a member of a national association?
If possible, find someone who comes highly recommended by a friend or acquaintance. If you don't know anyone who's had treatment for a similar condition, see if you can find any reviews online.
If it's not right for you, don't be afraid to find a more suitable practitioner.
At The Physiotherapy Partners, we offer a wide range of treatments to patients in our Birmingham, Halesowen and Kidderminster clinics – please contact us to arrange an appointment.
If you've got a question for our team, just email it to us at ask@thephysiotherapypartners.co.uk.