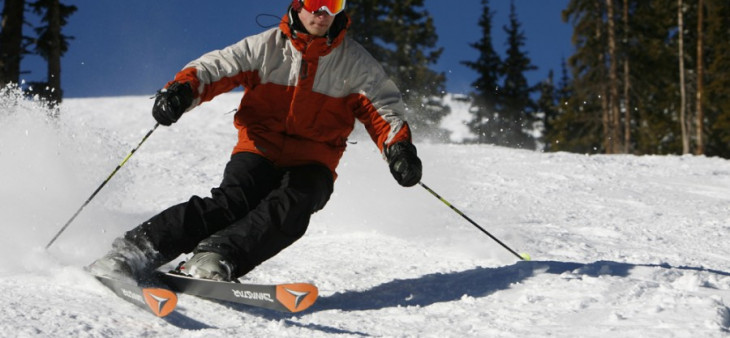 The expert team of physiotherapists here at The Physiotherapy Partners are able to clinically diagnose and treat many conditions, including injuries picked up through winter sports.
Channel 4's recent season of "The Jump" once again saw celebrities take on some of the most challenging and dangerous winter sports including skiing; which is still the most popular snow sport by far. Snow skiers are susceptible to a range of injuries with those to the knee being very common (particularly trauma to the anterior cruciate ligament) and as skiers will usually put their arms out to break a fall this often results in dislocations and sprains.
Injuries sustained by seven out of the twelve famous participants during the third series of "The Jump" have lead to Channel 4 undertaking a safety review. Whilst it is certainly true that all winter sports do carry a degree of risk, there are some simple and practical things that you can do to reduce the chances of sustaining an injury.
Preparation is key. Skiing is hard work and it is really worth making an effort to get fit to ski. Work your quads and hamstrings to prepare and get in some cardio too to aid in acclimatisation to altitude. Approach your local physiotherapist to tailor a programme to your needs and ensure you get the most from of your body and your ski holiday. Always warm up prior to hitting the slopes to raise your body temperature, also do some dynamic stretches in skiing style movements before starting out for the lift queue. Check your gear or get someone else more experienced to do it for you and do gentle stretches after any skiing session.
There are certain times you are more susceptible to injury when skiing. If you acknowledge and take extra care during these times you could avoid getting hurt. During the first few hours on the slope, your body will not be thoroughly warmed up, you may also be sore from a previous days exertion. Before you take a break, you are likely to be fatigued from a challenging session and when you return after a break, your body will have cooled down again and you are likely to still be feeling the affects of the earlier session.The last hour or so poses higher risk still with your body feeling fatigued, hunger and thirst will creep in depleting concentration.
There are things you can do after a day on the slopes to keep your strength up on a ski trip. Ensure that you drink plenty (of water!) to rehydrate. You may not feel thirsty but it is particularly important to keep hydrated when skiing. Eat well, more than you usually would. On a winter sports holiday you will be exercising constantly, this is no time to diet! Fuel your body with nutrient rich food or your body and immune system will be under stress. Take a sauna. Having a sauna can help loosen you up so you are able to stretch more and may mean that you are able pinpoint any potential issues before exercising further.
There are a some other common sense measures you can take to stay safe:
Always follow the FIS code of safety
Ensure your equipment is suitable, wear a helmet and wear suitable clothing and sunglasses
Avoid fatigue; take frequent rests
Never ski off-piste solo or without a guide
Take a day off after 2 or 3 days, give your body time to recover.
If you sustain an injury do not carry on, seek medical advice
If you do get injured whilst skiing, It is important to work closely with your physiotherapist so that they can suggest the most effective treatment plan for your recuperation. We provide sport injury and post operative rehabilitation and supporting exercise programs.
If you are in need of our expertise please get in touch. You can also find information on the other services we offer here and how to take the hassle out of booking a physiotherapy appointment too with YourPhysioPlan.
Photo credit: Fort Carson