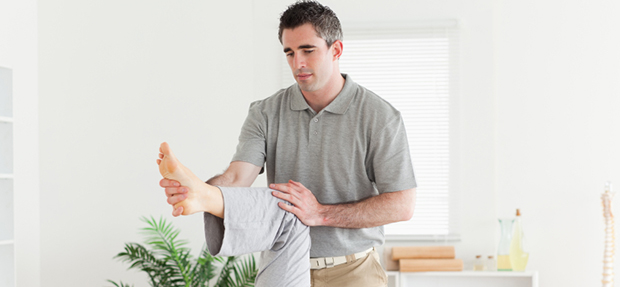 If you're looking for a career helping people, physiotherapy could be the path for you! Physiotherapists work with a wide range of patients to help improve mobility and regain body functionality following an injury or surgery. Watching patients get better week after week makes this a hugely rewarding career.
Since physiotherapy is a career that involves a huge amount of responsibility, it stands to reason that you must first achieve the required qualifications before becoming a practitioner. In the UK, this takes the form of a physiotherapy degree or postgraduate award, which must be approved by the Health and Care Professions Council (HCPC). A full list of courses can be found on the HCPC and Chartered Society of Physiotherapy websites. You'll usually have to demonstrate a level of base knowledge by achieving A levels or diplomas in relevant subjects, such as biology and PE. Volunteer or work experience in a healthcare setting would also help your application; please visit the NHS Volunteering website for more information.
However, it's not enough to just have the required qualifications. You'll also need the right kind of character; you'll be dealing with patients on a daily basis, many of whom will have experienced a great deal of upheaval and trauma, so you'll need a good bedside manner. Patience, empathy and sensitivity are all traits that good physiotherapists have. You'll often spend a great deal of time with individual patients, especially when they require a long period of rehabilitation, and it will aid their recovery if they have a physiotherapist they can communicate with and trust.
The day to day tasks of physiotherapists can be numerous and wide-ranging. As previously mentioned, you could be working with patients who've had accidents or injuries, as well as those who have recently undergone operations. You'll also help people who have spine and joint problems, including the elderly and individuals with chronic pain and long-lasting conditions. You may need to provide treatment to children and adults with mental or physical disabilities in order to help them become as mobile as possible.
Many physiotherapists are employed by the NHS, but you may instead choose to work for a private practice like The Physiotherapy Partners. Regardless of the setting, you'll often have to work in conjunction with other health professionals as part of your patients' treatments.
If you've got a question for our team, just email it to us at ask@thephysiotherapypartners.co.uk.